The other day I cut out the piece for the body for the "Marie Louise" doll I'm making in class, and tonight, I did most of the assembly: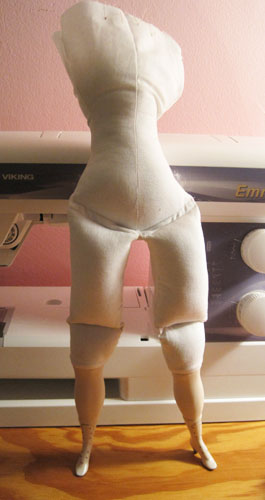 I am not particularly pleased with this pattern, (which is the pattern meant for this doll head - #BP84). For one, the pieces don't all line up properly, and I am
never amused
when that happens. I just feel like there's no excuse, as a patternmaker, to let a pattern out your door if you have not made it up and fixed any places where seams do not line up. I had to take some ugly tucks on this doll's backside to get things to fit properly. I find this annoying when I've spent all kinds of time being tedious and perfect about cutting things out. *sigh*
Also, I absolutely hate closing openings of stuffed things, and I have had to do it FOUR TIMES for this doll so far, because there are four openings in her legs, and I'm not even done with the doll yet!
And finally, I'm not keen on her body shape. But maybe this is just the way china head doll bodies are, and/or who cares because it will be covered with a dress, I suppose. . . At least that's what I'm telling myself!
At least it's done. Or, nearly so. I forgot to bring her arms home from class, so I couldn't do those, and I won't finish the top until I have the head in hand so I can make sure I stuff/finish it so that the shoulder-plate sits nicely on the body.
I'll kind of be glad when this is done. I've really enjoyed the process of cleaning greenware, painting the doll, etc., but overall, I'm not a big fan of china head dolls. I like the "Jenny Lind" style dolls, (like
the one I got last summer)
, but that's about it. I really hope doing this one china head is enough for me to graduate to doing a French Fashion doll next! *crosses fingers*