The other result of my weekend at Brimfield is that my reproduction FFD has a name! It really had nothing to do with Brimfield, unless you consider that two days of walking so much, surviving on junk food, and having a ginormous sinus headache may have caused my mental state to reduce to the point at which everything becomes hilarious. . . And it was at this point when I remembered randomly that her behind was so sizeable, and began laughing all over again, and then and there realized that she should absolutely be named Fanny! Ah, how I crack me up. . . ;)
Speaking of Fanny. . . I thought I'd take a few moments to review a couple of shops I ordered things for Fanny from. . .
First,
Dollspart
. The most important thing I ordered there was her wig, which is their "Sheryl" wig. It is mohair, and just absolutely lovely and so soft! The only thing was, it just was a lot of curls, and they were just a little bit more independently minded than I was aiming for. . .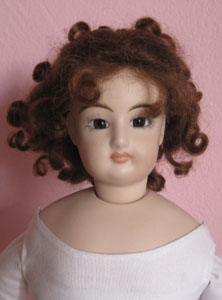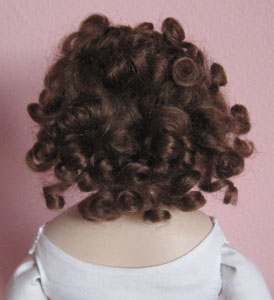 I had really hoped for something that was more controlled and gave a very 1870s look, so I grabbed a couple of tiny bobby pins, and was very easily able to make it look more like what I had in mind. . .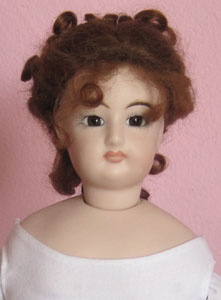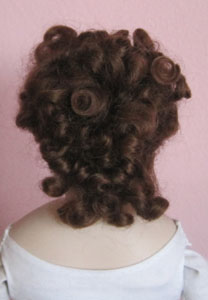 I'm really happy with it now!
Also, while I'm talking about Dollspart, I want to mention that their customer service folks are some of the nicest I've ever interacted with!
Dollspart: A+
Next,
Antina's Doll Supply on eBay
. I stumbled onto this shop while looking for a stand, and ended up ordering a few extra things as well!
First, the stand. It is supposed to fit a 14"-16" doll, but I think there's no way it will work for my 15" doll. The bit that should be at her waist is much too high, and therefore it will only work as long as the doll is not dressed. I have some ideas on how to modify this stand to work, so stay tuned. . .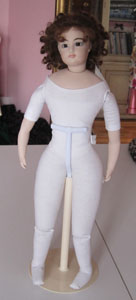 Next, the footwear. I ordered size 6 boots and size 5 shoes, both of which should be right around 2", and were. I think they're pretty standard antique-esque doll shoes, but they do look a little larger-scale on the doll, simply because they are tall, and not as fitted to the leg as antique boots were made to be. (Sorry, I was too lazy to button all the buttons on the boot as they were quite hard to fasten and I wasn't leaving them on at the moment!)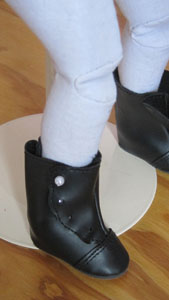 The shoes were a disappointment. The style is super cute, and I liked them way better than the boots, but I ordered size 9, which is supposed to be 1 3/4", but it was not. They were only 1 5/8" long, making them a bit too short for Fanny to squeeze her feet into them – especially since they have a pointed toe. Since it would cost me $7.75 for the shipping on one single pair of shoes, I am not planning to try a different size. :(
Finally, the earrings. I had this idea that I could use these eye pin things I had to make earrings, and I stumbled on to these and thought, that's exactly what I was thinking! Except I figured it would be cheaper and less of a hassle to just buy them rather then make them, so I bought her four pairs, (rubies, emeralds, diamonds, and plain gold).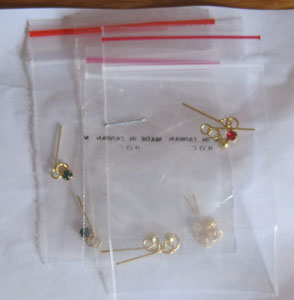 Here, Fanny models the "diamonds" for you: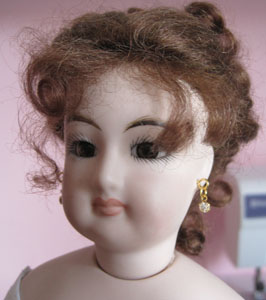 I am very happy with the earrings! I think they're really cute, and they fit perfectly.
So overall, I think they have decent products, and at great prices. However, the shipping is really high if you are just buying one item, and the measurements of things may be off, so there's a little risk there.
Antina's Doll Supply: B+