I finished my first French Fashion doll head!!!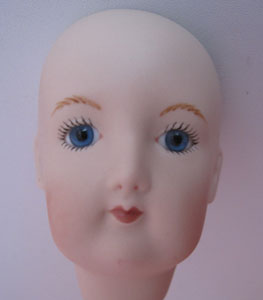 I am pretty happy with how she turned out. I like her in real life better than I like the stock photo on the Bell web site, and I already liked the stock photo, so. . . Good news there! :)
My next steps for her are to make a wig and a body for her. She'll be around 18" when finished, and will have dark blonde hair. I am going to be making the wig! For now, I'm pilfering hair from a cheap Halloween costume wig, but some day, I'll make one in nice mohair.
I'm presently trying to make a final decision on a style. I know for sure that I'm aiming for 1870s, and that I want no bangs, a center part, and then I'll style it somehow at the back. What I don't know is if I want something something that is very simple and pulled back, like the 1870 fashion plate below on the left, or if I want to go for the look with the curls down the back, like the 1874 illustration below on the right. At the moment, I lean more towards the curls-down-the-back. . .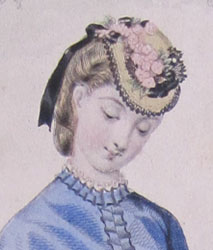 &nbsp&nbsp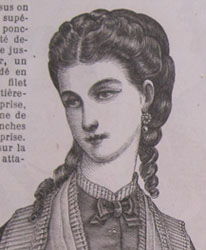 In other news. . . I have no idea what to do next in doll class! I just recently got laid off due to a major workforce reduction at my company, and I am worried about how long it will take me to get another job, and if the severance will last as long as I need it to, and therefore trying not to spend frivolously in any way from now until getting a new job. But, I've paid for classes for the month of July, and it would be silly to not have anything to do all month, so, I think I'll just have to have another doll poured, and suffer the shopper's remorse! But then the next question is. . . Which doll? Hmm. . .