I am woefully behind on updates regarding what I've been doing in doll class, that's for sure! So here's an update. . .
First, I finished a head for a second 18" FFD: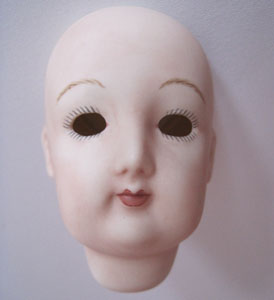 This doll is the same mold I used last time, but I did some things differently this time around. For one, instead of going with a pouring in a skin-like color, she was poured in white, and I did what's called a "wash" to give her skin a flesh color. Another thing I did was to outline the lips with a stronger red, in imitation of what was done on the antiques. I still feel I have a ways to go, but I'm pleased with how she turned out, in the end. (And no, I still haven't got a body, wig, or clothing of any kind on the first one! Therefore, this second one is likely to be a "floating head" for quite some time!)
Next, remember those super tiny fairy heads? Well, they have their bodies now!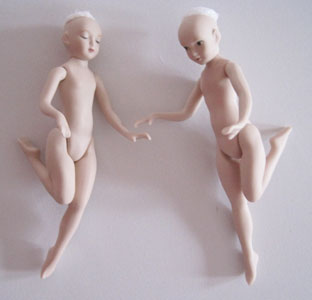 Of course, no clothing or wigs on these guys yet. . . Nor is there likely to be any time soon because in my head, they are Christmas fairies, and I've no intention of finishing them in time for
this
Christmas, so I'll bet they don't get finished until next year's holiday season!
But most recently, I've been taking a brief break from the dolls and making a couple of ornaments in class. Every year, a friend of ours hosts an ornament swap, and hand made ornaments are encouarged. I decided since this is the year in which I've learned to make things of porcelain, that a porcelain ornament was in order! And, that instead of making life easy and using decals, I felt the need to hand paint a design, LOL! I decided on snowman because I figured they'd be fairly easy to draw. They were a little tricky in that you can't put white over colors, so for the first firing, I was only able to paint the blue background, and so they looked like this: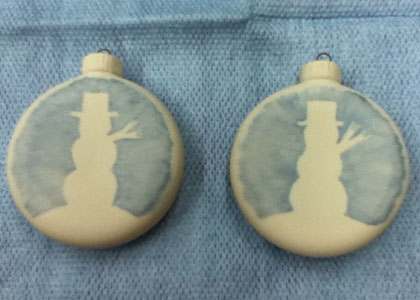 Then, over the next couple of weeks, I added the white, and then the details and the gold at the top (which has real gold in it!) I really hope they'll go over well at the swap!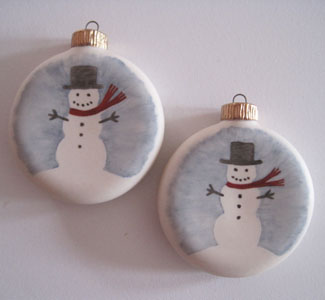 So that's the end of doll classes for this year. I started in February, so took classes for almost a year, and I ended up with three antique repro dolls (well, the parts for them anyhow!), two fairies, and two ornaments. . . Not too bad! When I start back up again in January, I'll be working on yet another French fashion doll, but this time, from a different mold. . .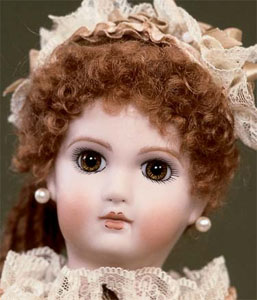 Bell's MD2027, or "Renee," creates a 15" doll, so this one could be a friend for Fanny. And, I'll be up for a challenge since the smaller scale means a need for even more intricate brows and lashes. I'm going to have to come up with a brush that is way less full or I'll go nuts, ha ha ha!
So, just for the record, between the dolls I made this year, and the few I aquired already-made, we're now up to eight dolls who need to be clothed, and of these, five need bodies (or repairs/replacement parts), and three need wigs. Not to mention, I haven't made anything for Charlotte in forever, and she's still waiting on getting a nice 18c wig made for her. Yikes! It seems like my New Year's Resolution should probably be to punch out a bunch of bodies, wigs, and doll clothes! ;)