So you all know how I've whined about this doll body situation; about knock knees, ginormous back sides, and posture problems. Well, I've been working hard on making a body pattern that satisfies me. I molded a body out of clay to pattern my own body off of, I studied a
crazy insane amount
of pictures of extant French Fashion dolls in their birthday suits, and referenced assorted doll making patterns and books. And, at long last, I think I'm just about there!

(Sorry about the creepy one-legged thing going on; I didn't feel like making twice the gussets and doing all that stuffing when I could easily see if it would work by just making the one leg!) I just need to tweak the gussets a tiny bit, and to scale down/shorten the bodice area a bit (that's what all the markings are about), and I think she'll be good to go! And, with the head attached, she's almost exactly 18", which was the suggested height for this doll. Just to compare, here is the pattern that allegedly was created to fit her: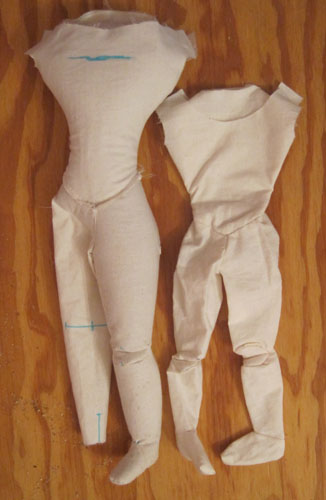 *rolls eyes* Granted, I altered that body a bit, but I did not alter anything that would have impacted the scale/height. Although I did lengthen the leg to go down to the foot, instead of ending above the knee, I used the porcelain part for this doll to add that length. She would have looked freaky on such a tiny body!
Also, check this out: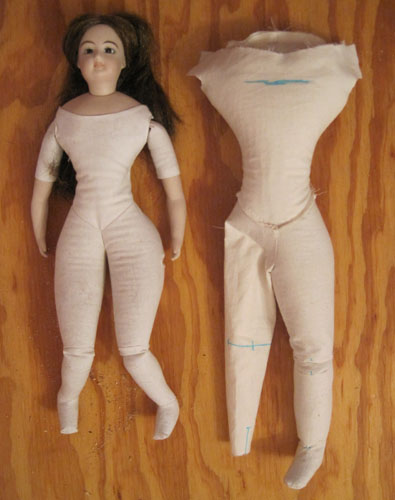 No more problems with
ginormous
back-side, legs that won't come near being straight, and bad knock-knee-itis! My new body can't sit, but she can perch, and I'm fine with that, because I think that's about the same mobility the original dolls had, based on the creases/signs of wear I see pretty consistently on them.
Guys, I'm so excited! Today I get to finally break ground on the
actual body
; not a test pattern, not a mock-up, not any other preparatory step. . . It's time for the real deal! And you know what that means? That some day
very soon
, I will get to start making tiny Victorian costumes for this gal! Hooray for
that
!!!